Foundations for Excellence in Learning and Life
Excellence In Care offer our families and educators a new and unique school readiness program. It will no longer be called a 'School Readiness' program because this limits how we view children and what we do as Educators.  Instead it will focus on children from babies to school age because that is the focus of the EYLF, and it will be called 'Foundations for Excellence in Learning and Life' or FELL, because learning concepts like counting are life skills, not just preparation for school.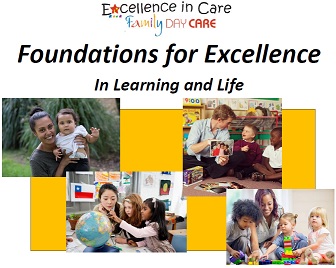 It consists of an introduction, a positive explanation of the role of the educator in light of current expectations, and 4 modules of learning ideas that build on each previous module. Only Module 1 will be released at this stage, and the plan is to release the next modules successively during the next 3 holiday periods.
Module 1 is called 'Getting to Know Each Other'. It contains 5 sections:
1. Links to the EYLF and an example theorist
2. Considerations for Children and the Educator
3. Planning and Setting up the Environment
4. Ideas and Resources with an Emphasis on Language Development
5. Other Ideas and Resources
Each section contains links to supporting documents, videos, and brand new resources that are available only to our educators and families, so stock up on (recycled) paper and printing ink and get ready to download resources that will promote language, literacy and numeracy with all ages in different ways. There are instructions and ideas for use on each of the resources.
Module 2 is called 'Building on Children's Skills, Knowledge and Interests' released April 2020
Module 3 is called 'Broadening our Perspectives'
Module 4 is called 'Continuity of Learning and Transitions'
Only, at Excellence In Care.