Excellence in Care Family Day Care Scheme
Since May 2011
About Us
Excellence in Care is a team with a passion for providing quality education and care to the most important little person in your life.
We are a husband-and-wife team, who began operating in May 2011, and have continued to set quality standards, whilst ensuring our costs have remained low for the past 10 years. Our dedicated team of staff offers many years of industry experience, specialising in Family Day Care. Moreover, as a service that promotes connection and positive relationships, we are delighted to share that our host of brilliant, founding educators are still with us today.
Our services underwent a second assessment and rating in 2020, and we rated 'Exceeding the National Quality Standard'. We strongly believe we've gone from strength to strength during our years in operation.
For families, you can be assured that our educators, who provide care in their own homes, are early childhood education and care professionals. Our educators will provide a positive, nurturing and safe environment with utmost focus on being adaptive to each child's individual needs.
For educators, if you share our philosophy in giving each child the opportunity to participate positively in our community, desire to cultivate a sense of harmony, and are committed to ethical practice; if you want to provide opportunities to create empowerment and inclusion, while delivering quality care, support and love within the family day care sector, then it might be time to contact us to discuss your next step.
We strive to make sure that when you join Excellence in Care, as an educator or a parent, you are not only joining the team, but becoming part of our family.
View our Exceeding Assessment and Rating
View our Team
View our Philosophy    "We are what we repeatedly do. Excellence, then, is not an act, but a habit." – Aristotle PHILOSOPHER
Facebook
Excellence In Care collaborates with our community, families, educators and children. We feel it is vital to have effective communication with all who engage with the services that we offer. We find digital communication to be a strong characteristic of ours, having a strong presence on social media, our company Facebook page has over 2,800 followers. Our service posts regularly to Facebook with up to date information for the sector and within the service.
Our posts engage with a range of clients, industry childcare professionals, families and educators of the service, and community groups. Please like and follow us.  

National Quality Standard (NQS)
Excellence In Care has been rated Exceeding National Quality Standard under the National Quality Framework. The National Quality Standard (NQS) sets a national benchmark for the quality of children's education and care services across Australia.
Services are assessed against the NQS by the state or territory regulatory authority and receive a rating for each of the seven quality areas of the NQS, as well as an overall rating. More info here about this process.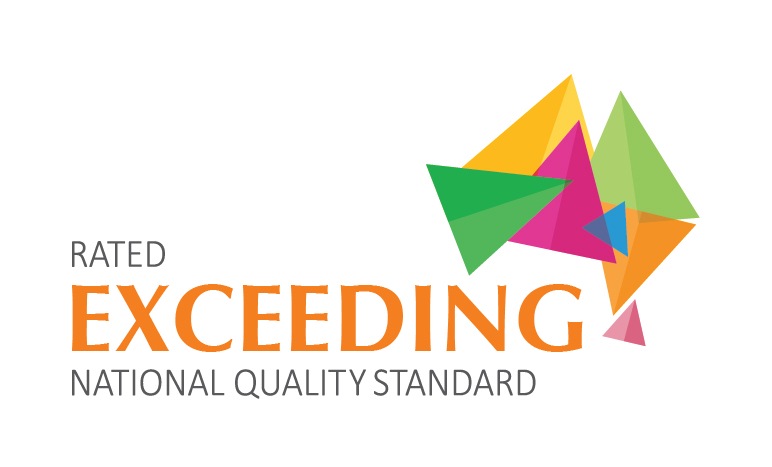 Read our Social Media Privacy Policy